Colorado River | UPSC | Why In The News ?
For the first time, the federal government in the US declared a water shortage for the Colorado River basin due to a historic drought, which will lead to water cuts in some southwestern states starting October 2021.
Source : Indian Express 
Which states will be impacted by the water cuts and by how much?
The water cuts will mainly affect residents of Arizona, Nevada and Mexico.
Arizona will experience an 18 percent cut in its annual water apportionment, while Nevada will experience a 7 percent cut.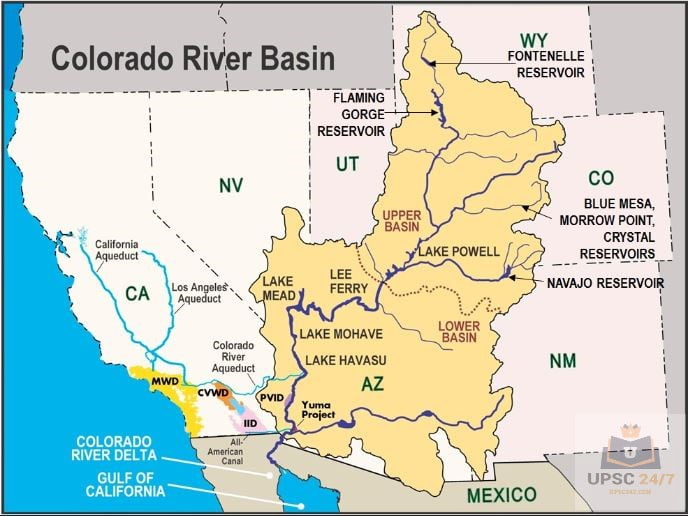 About Colorado River :
The Colorado River is one of the principal rivers in the Southwestern United States and northern Mexico.
The 2,330 km river starts at La Poudre Pass in the central Rocky Mountains of Colorado in Grand Lake, Colorado.
It flows through the southwest across the Colorado Plateau and through the Grand Canyon before reaching Lake Mead on the Arizona–Nevada border.
After entering Mexico, the Colorado approaches the mostly dry Colorado River Delta at the tip of the Gulf of California between Baja California and Sonora.
In the Lower Basin, the Hoover Dam controls floods and regulates water delivery and storage.
Apart from the Hoover dam, there is the Davis Dam, Parker Dam and the Imperial Dam that regulate the release of water from the Hoover Dam.
It is often referred to as the "Lifeline of the Southwest."
Places In News UPSC Pdf 2021 | 800+ Important Places In News
The River System is Joined by Other Streams Also :
The Virgin, Kanab, Paria, Escalante, Dirty Devil, and Green rivers from the west.
The Little Colorado, San Juan, Dolores, and Gunnison from the east.
The River Basin is divided into Two Basins :
Upper (Wyoming, Colorado, New Mexico, Utah and northern Arizona)
Lower Basins (parts of Nevada, Arizona, California, southwestern Utah and western New Mexico).
Dams Located On Colorado Are :
The Hoover Dam
The Davis Dam
Parker Dam
The Imperial Dam