National Industrial Corridor Programme (NICP) | UPSC  | Why In The News ?
11 Industrial Corridors with 32 Projects to be developed in 4 phases in the country as part of National Industrial Corridor Programme (NICP).
About the National Industrial Corridor Programme (NICP):
The NICP has been conceived to promote world class manufacturing facilities and develop futuristic industrial cities in India.
It is under the Department for Promotion of Industry and Internal Trade (DPIIT).
The broad objective of NICP is to provide plug and play infrastructural facilities for setting up large scale manufacturing units.
The National Industrial Corridor Development and Implementation Trust (NICDIT) under the DPIIT is the overarching institutional framework to implement the programme.
Under the programme, land parcels are developed for immediate allotment to manufacturing units.
The programme aims to develop new industrial cities as "Smart Cities" and converge next generation technologies across infrastructure sectors.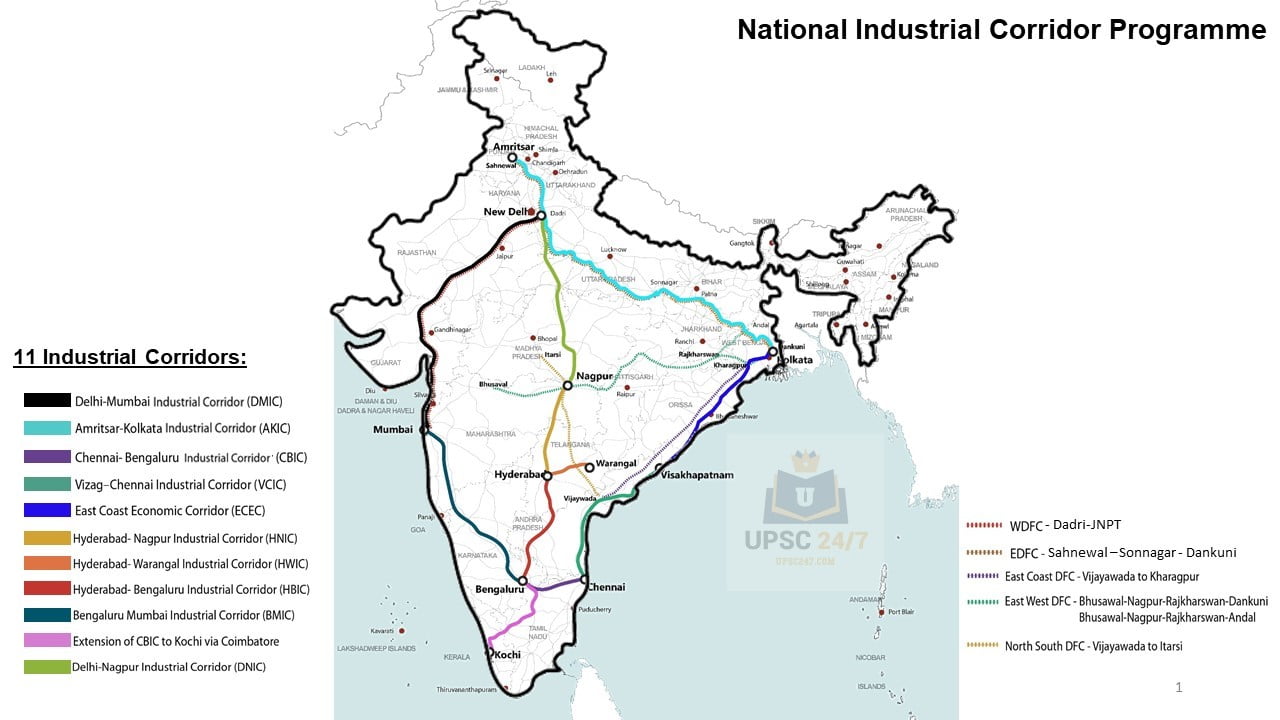 The 11 Industrial Corridors being developed are:
Delhi Mumbai Industrial Corridor (DMIC)
Chennai Bengaluru Industrial Corridor (CBIC)
Amritsar Kolkata Industrial Corridor (AKIC)
East Coast Industrial Corridor (ECIC) with Vizag Chennai Industrial Corridor (VCIC) as Phase 1
Bengaluru Mumbai Industrial Corridor (BMIC)
Extension of CBIC to Kochi via Coimbatore
Hyderabad Nagpur Industrial Corridor (HNIC)
Hyderabad Warangal Industrial Corridor (HWIC)
Hyderabad Bengaluru Industrial Corridor (HBIC)
Odisha Economic Corridor (OEC)
Delhi Nagpur Industrial Corridor (DNIC)
Sabki Yojna Sabka Vikas | UPSC | Explained
Need for such a programme:
Industrial corridors are conceived to foster global manufacturing, investment destination hubs and smart cities with the best in-class infrastructure.
They have the potential to unleash the manufacturing potential in the country and raise its contribution to GDP by creating quality infrastructure ahead of demand.